Products
DCB and AMB Substrates for Power Modules
Overview
DCB and AMB Substrates for Power Modules make a contribution to efficient and stable operation by releasing the heat generated in the power semiconductors incorporated in inverter control devices.
Features
DCB and AMB Substrates for Power Modules are products in which copper plates are bonded to each surfaces of a ceramic plate, which is an insulating material. As ceramic materials, we offer silicone nitride-based materials and alumina-based materials, and a ceramic plate made of nitride-based material and that made of alumina-based material are integrated with copper plate through bonding by the active metal brazing (AMB) method and direct copper bonding (DCB) method, respectively. Those products are equipped with a high thermal conductivity and a high electric conductivity of copper and a high insulation property of ceramic substrate. In the AMB method we conduct, a bonding layer with a thickness of several micron or less has been achieved, producing almost no influence of the thermal resistance of the bonding layer. In addition, in the DCB method, as a copper plate is directly bonded to an alumina-based ceramic substrate, there is almost no bonding layer that produces thermal resistance.
Product usage
Various power modules in which various power semiconductor elements, such as Si-IGBT and SiC-MOSFET, are mounted
Power module units for electric vehicles, new energies (wind power, photovoltaic power generation, etc.), inverters for industrial uses
Product specifications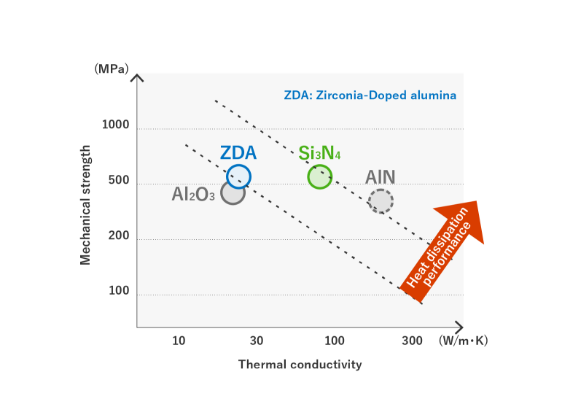 Silicone nitride-based material
Silicone nitride-based material
Bonding method
AMB*1
Ceramics
■Silicone nitride:
90 W/m·K (under development > 100 W/m·K)
■Thickness: 0.25mm, 0.32mm
Deflective strength
700MPa
Copper plate thickness
0.3mm~0.8mm
Alumina-based material
Alumina-based material
Bonding method
DCB*2
Ceramics
■Zirconia-Doped Alumina:
24~27W/m·K
■Thickness: 0.25mm~0.38mm
■96% Alumina:
24~25W/m·K
■Thickness:0.25mm~0.635mm
Deflective strength
700~800MPa
400~500MPa
Copper plate thickness
0.2mm~0.4mm
0.2mm~0.4mm
*1 AMB: Active Metal Brazing
*2 DCB: Direct Copper Bonding
*The values provided here are not guaranteed values.
*For specifications not listed here, please make an inquiry. We will discuss to address the inquiry.
Product Lineup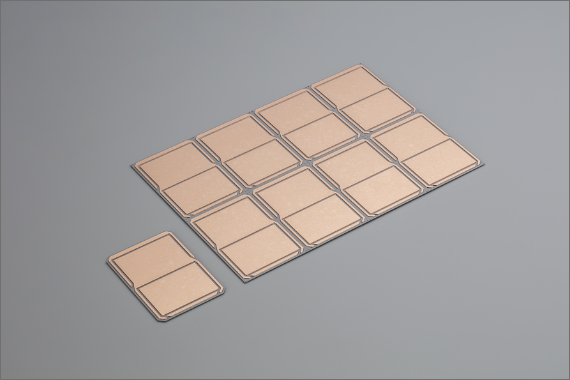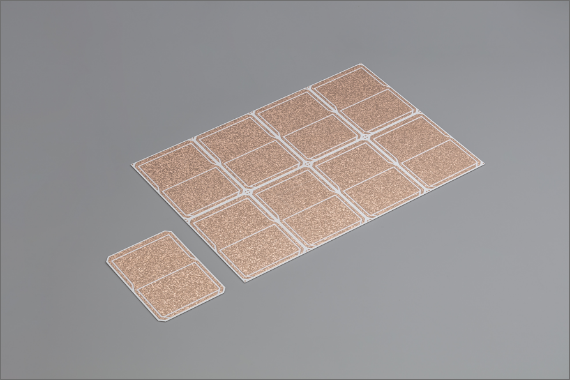 For the information on the products,
contact us via the following.